Services & Rates
Custom Aromatherapy
Allow your therapist to customize an essential oil blend to suit your needs each and every session. Your therapist will add up to 20 drops of pure essential oils to a warm room diffuser to invigorate, soothe, and aid in the healing capabilities of your therapeutic massage session.
30 Minute Massage
This targeted massage will help to relieve a specific problem area. Whether you have upper body muscle tension, a hamstring pull or wrist issue, rest assured we have the techniques available to make the most of this compact session.
*This session time is also perfect for children 12 and under.
40-Minute Top and Toe Massage
This compact session addresses the back, neck, shoulders and soothes feet with warm towels and aromatherapy massage oil. This service is sure to melt workday stress and tension while fitting into a one hour time block. Schedule one during lunch or after your workday and come home rested and refreshed!
60 Minute Massage
Our Outcome-Based Massage is a very relaxing and therapeutic style of bodywork, and the most common form of massage therapy. It combines oils or lotion with an array of movements such as rolling, kneading, and percussion to help the body improve its circulation. The benefits of this type of bodywork are wide-ranging and include relief from aches and pains, decreased stress levels in the body, enhanced mental clarity, improved posture, and greater flexibility.
90 Minute Massage
With a lengthened session time, the ultimate 90 minute massage session allows for prolonged and extensive body work, and thus, deeper relaxation. This session is great for end of the day appointments, first time massages or if it's been a while since your last massage.
Deep Tissue Massage
30 minutes: $10 additional
Deep Tissue Massage is a massage application that aims to relieve tension in the deeper layers of tissue in the body. This level of pressure is a process by which the therapist must soften, or "release" large movement related muscles in order to reach "postural" muscles, or those who aid in keeping your body upright during the day.
This form of therapeutic massage is a highly effective method for releasing chronic stress areas due to repetitive motions and lingering compensations from injuries past. Due to the nature of deep tissue work, open communication during the session is crucial to make sure the pressure level is appropriate to your comfort. Pain during a massage does not mean it's effective. For more clarification on deep tissue massage therapy and its pressure levels, please visit: https://www.painscience.com/articles/pressure-question.php
* An additional charge of $10/30 Minutes will be added for clients who request extremely deep pressure.
Hot Stone Massage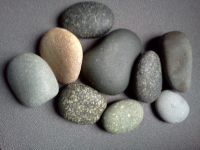 Hot Stone Massage is where heated stones are placed at specific sites on your body to deepen relaxation and promote circulation in your muscles. Muscles that are heated with these stones release tension and stress much more deeply and quickly than with a traditional massage. This session is only available in a 90 Minute session time.
We use hand-picked stones from Lake Huron in this session which are heated through with Sweet Orange, Lavender and Peppermint oils to awaken, soothe and rejuvenate you.
Pregnancy Massage
Pregnancy Massage is a style of bodywork designed specifically for pregnant women. Pregnancy is a time when a woman's body endures tremendous stress due to dramatic physical and emotional changes. Pregnancy Massage helps release the pain and discomfort experienced throughout pregnancy. The benefits are profound, including emotional support, the relief of joint pain due to extra weight and postural imbalance, and improved breathing and relaxation.
You will never be charged extra for being pregnant at Massage by Andrea, and we think you shouldn't be charged extra anywhere. Please, keep in mind that you will be laying on your sides during this session, and on your back up until about 15 weeks (variable.) Your comfort is important to us!
Gentlemen and Ladies, if you are looking into this service for the mother-to-be in your life, please call with any questions you might have. You may prepay by credit card or we have Gift Certificates available for purchase!
Couples Massage Lesson
Have you ever wanted to give a great back rub for the special someon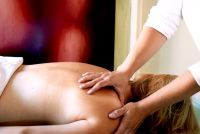 e? Ever wanted to do something romantic and out of the ordinary? Imagine walking into a beautifully appointed treatment room with two long stemmed roses lying on the massage table. Imagine refreshments for your enjoyment with your choice of sparkling cider or sparkling water, a small tray of cheese, crackers, fresh fruit and chocolates prepared just for you! With the tutorial assistance of your therapist you will both give and receive a wonderful massage of the back, shoulders, face, scalp and feet. You will get advice from the experts on how to take what you learn home in this sensuous, yet completely professional session.
We would like to make this experience as meaningful as possible, please do not hesitate to call and inquire about how we can collaborate to make this a truly memorable and heartfelt experience.
Allow 2 Hours for this Session. 24 Hours Reservation Notice.
90-Minute Seasonal Escape
The 90 Minute Seasonal Escape is the perfect retreat. Enjoy warm linens, soothing hot towel treatment to the back and feet, custom blended seasonal aromatherapy and a salt scrub treatment zone of your choice. Let this service carry you away. Autumn - Winter Honey-Chai Cinnamon
Choose from:
The Sole Treatment foot exfoliation
Back Glow back exfoliation
The skin softening Hand & Arm treatment
Therapeutic Massage Oil
Essential Ten Therapeutic Massage Oil
Ingredients: